Sure enough, after the last marathon weekend of working in the basement Kyle caught some type of flu-like funk and was out of commission for a week. But by last Monday he rallied enough to pour the concrete footings and finish prepping for our plumbing inspection.
On Friday, the inspector came out to sign off on our rough-in. Despite Bailey's skeptical expression, we PASSED! (Phew.) Afterwards, Kyle got to work covering up all his hard work in preparation for the slab pour.
Earlier in the week, Felix performed his own preliminary inspection.
Anyone who has done their own plumbing knows how complex it can be. We're visual people, so Kyle created this color-coordinated plumbing diagram to help figure it all out (and serve as a shopping list of sorts). All this for one modest-sized bathroom. Crazy town.
By Saturday morning, the basement was a hot mess of tools, empty boxes and misc. items that needed to be moved to the crawl space. So we took an hour or two to organize and reassess. Bailey and Felix supervised.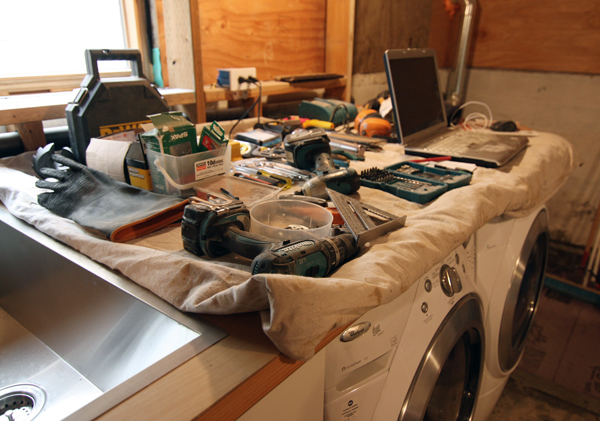 Laundry center turned work station…
…and stair wall turned temporary tool storage. It felt good to get organized and did wonders for our motivation.
Ahh, much better. Along with the new concrete slab for the bathroom, we'll also be pouring a thin slab over the future media/guest room floor to create a level surface. (Nothing says "basement" like a sloped floor right?)
After cleaning the space out, the next step was to install sill plates and rigid insulation to the concrete walls.
But first, a Saturday evening trip to Home Depot to pick up supplies.
1 cart, 2 carts, 3 carts, 4! I hereby give Kyle the award for home improvement store endurance (he single-handedly loaded everything onto the carts and then into Orange Crush, our old work truck). For large trips like this, we typically order supplies from our favorite local lumber store, but Kyle was motivated enough to start framing on Sunday so our options were limited.
Our poor truck…oh hey, our new Japanese Maple!
In addition to the wall insulation and framing lumber, Kyle also picked up the DRIcore, an interlocking subfloor with a dimpled plastic on the underside to protect against any moisture that might come up through the slab. (We are definitely taking a "belts and suspenders" approach to the basement because the last thing we want are any moisture-related issues that can be so common to these types of spaces.)
Before we add 2x furring over the concrete foundation walls, Kyle installed 1 1/2″ rigid insulation. This serves as a thermal break between the concrete wall and wood wall and has a higher r-value per inch than batt insulation. (In the end, we'll have a combination of R-7.5 from the rigid plus R-13 from the batts, equaling a code-compliant R-21 for basement walls.) The insulation (which was installed with a special adhesive) is going in now so Kyle can pour the new slab up against it.
At the juncture between the media/guest room and the "hallway" at the bottom of the stairs, Kyle installed a couple of stacked pressure-treated 2×6's as a curb for the concrete and sill plate for the new wall. Even though our existing slab slopes about 6″ from one end to the other, creating one level slab throughout would have significantly reduced our ceiling height. So we decided a better strategy would be to create different floor levels for each zone – the three zones being the guest room, hallway and bathroom. (For the rest of the basement we'll keep the floors as they are.) There will be a slight step between zones, but nothing that will be annoying or a potential tripping hazard.
Kyle knocked out most of this work on Sunday, while I was upstairs hosting a bridal shower brunch that had been planned for a few months. The muffled sounds of drilling or the compressor firing was somewhat comical, but no one seemed to mind. Bonus – there's nothing like leftover croissants and mini cupcakes for a little construction break snack.
So, next step – concrete pour! For this one we pre-ordered a fresh batch of concrete for Saturday morning….because what other way would we start a 3-day holiday weekend?