I really hope this is our last post about concrete.
Yeah, I suppose there's the initial thrill of the pour (or "placement" if you want to be all technically correct) – working against the clock, crossing your fingers that everything goes according to your carefully laid plan. But really, it's just a lot of work and it's messy.
So let's begin.
We stayed up late on Friday night doing final preparations for our Saturday morning pour. Because we couldn't waterproof under our existing slab, we opted to put down a plastic vapor barrier between the old and new concrete. Kyle also ran a string line around the perimeter to use as a guide for how far we should pour.
Next, Kyle installed the rebar and welded wire mesh for the bathroom slab, with a series of 2×6 planks to walk across during the pour. (The new concrete in the bedroom was just to level things out and didn't require reinforcement.) He also made a frame out of pressure-treated lumber to box out around the future bathtub so we'd have some wiggle room with the actual drain installation.
Our friends Chris and Julie offered to help out on Saturday and were at our house at 8:30 a.m. to make the trip to the rental place where we'd be procuring our "mud". About 30 minutes later, Kyle called to tell me that the rental place had lost power temporarily and thus there was no concrete. So he came home and we waited…for about five hours.
Fortunately for us, Chris was also working on his house that day and was able to shuffle his schedule and come back to help in the afternoon. By 2:00 or so, all systems were a-go.
We rented a metal concrete chute that went from the concrete mixer in the driveway, through the window and down into the basement. We hung the low end with a loop of plumber's strapping fastened to the joists.
The initial idea was to fill 5-gallon buckets and then transfer them to the two slabs…
In the end though, we reconfigured the chute so it dumped straight into the bedroom slab area and then later repositioned it for the bathroom pour.
We started out with a 3/4 yard of concrete that came pre-mixed in this cute little trailer. There's a small door at the back that opens up and allows concrete to pass through with a little human guidance from our friend. Once the wet concrete arrived there was no time (or clean enough hands) for photographing, so you'll just have to pretend. The mix didn't flow quite how we hoped, so we came up with a method where Chris would push it down about 1/3 of the way with a trenching shovel and then Kyle and I would pull the remainder down the chute before spreading it across the space.
The boys were way too dirty to take photos, but I did manage to snap this one with my iPhone during a quick break (31 weeks!). There was no way I was fitting into my normal paint-splattered work jeans, so out came the ol' track pants tucked into black rubber boots. Stylish!
After the trailer was empty, Chris and Kyle got to work spreading and leveling out the wet mix and I was able to peel off my gloves and take some action shots.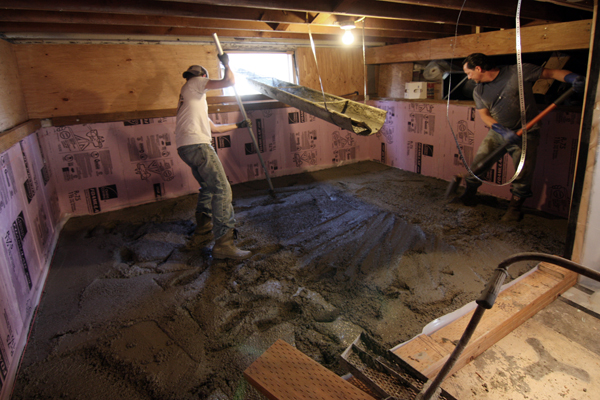 Wet concrete has to be worked into place and we found that metal rakes were the most effective.
When the concrete was fairly level and even, the boys troweled the mud for a smooth surface. To better distribute their weight and keep from sinking in, they knelt on pieces of leftover rigid foam as they worked their way across the space.
We picked up another 3/8 yard for the bathroom slab and repeated the same process, only this time we relied more on filling and dumping buckets since the chute wasn't long enough to reach across the basement (no heavy lifting for me, I filled the buckets and Kyle dumped them).
We had a little bit of concrete leftover, so we filled in the area around the sewage ejector pump (the cardboard tube you see below acts as a form that is later removed after the concrete cures).
Done! (This photo was taken Saturday afternoon and by that evening it was cured enough to walk on.)
As Kyle and Chris finished up and returned the equipment, I rinsed all of the tools, buckets, boots and gloves before the concrete had a chance to harden.
So what started out as a morning project turned into an all-day affair but we're just relieved to be done (and incredibly grateful to have had some help!). Kyle did some framing and picked up more supplies yesterday, but today has been largely unproductive. And we're ok with that. Next weekend.