The porch ceiling is up! We chose to go with vertical grain fir tongue and groove boards. Now, we're not typically ones to geek out on grain patterns, but these boards are. gorgeous.  We still need to apply the finish, but wanted to get them up so we could continue trimming out the rest of the space.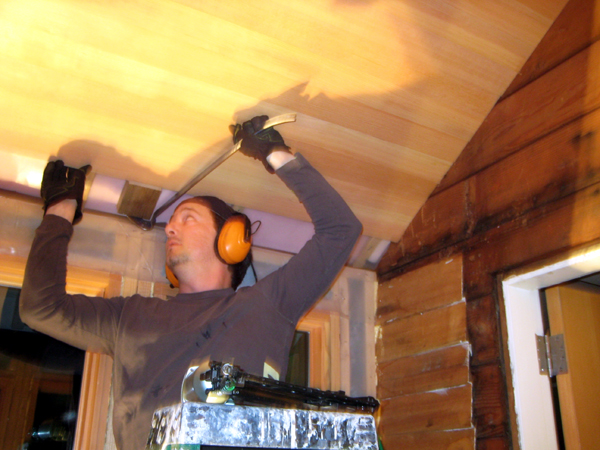 Kyle uses a crowbar and wood block to cinch up the boards, then blind nails them in place.
The old porch had a dropped ceiling, so next we need to go in and add the missing siding at the gable end and install the light.
The new light matches the one on the exterior, and we've ordered a frosted glass globe to replace the clear one for more diffuse light.
We finished this just in time for our trick-or-treaters on Saturday. (Interestingly enough, we did get more kids this year. Maybe the house was too scary in years past? Or maybe they just assumed we'd have lame candy?)
We've also officially entered the dark season here in Seattle, which means the sun has already gone down by the time we get home in the evenings and motivation is hard to come by. We have a loose goal to have the porch done by Thanksgiving, so the next few weeks will entail a lot of trimming, spackling, priming and painting. But at least we'll be indoors, with artificial light.