Back in October, we put together a materials palette for our porch. Four months later (after a much needed break) we are finally finishing the space up and realized we have yet to order the coat hooks! Below is the coat hook style that we picked out last fall – it's the Bach hook and is sold through a few big name retailers. We like the simple design and functionality. The curved steel is supposed to keep things in place without stretching out the fabric. Since we don't have enough space for a horizontal, multi-hook setup we plan on installing 1-2 of these on each side of the door which would provide 6-8 hooks total. While we admittedly have a large jacket collection (it's Seattle – we layer!) we're hoping that by purposefully limiting our storage capacity, we'll only keep out the coats/jackets/scarves that we wear frequently and avoid some visual clutter in the process.
Now, even though we're still feeling good about this option, we decided to do a little more research, just to make sure. Here's a collection of additional modern hooks that caught our eye. [All images are linked back to their source.]

Love this classic, simple design. Smedbo – $40.50

Minimal modern design from hardware favorite, Sugatsune – $7.20

I love the idea of these abstract house hooks with space for keys, mail and coats! $40 (Canadian) via Remodelista.
So maybe these aren't really wall hooks, but I love the timeless, clothes pin design. $5.50 each from Muji.

A more affordable take on the Tom Dixon version below, this is a fun piece that would provide a lot of storage. $29.95 from CB2.

A well loved IKEA classic. We have several of these that have moved with us from place to place. $5/two pack.

Another great example of minimalist design. We noticed a similar hook system used during our stay at the Rolling Huts last month. $150 via Nest Living.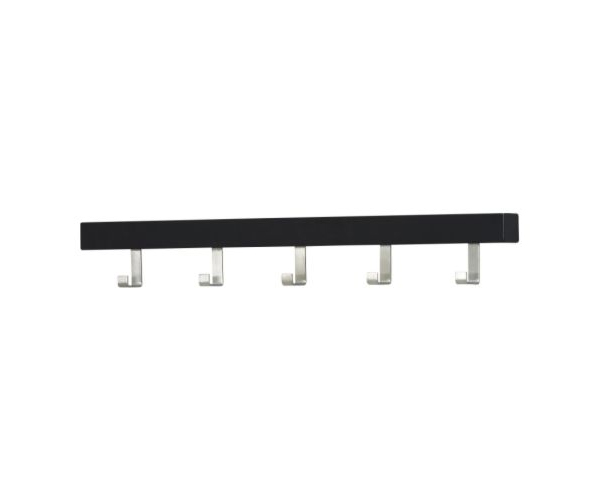 Another affordable IKEA option. $10 (in white or black finish)

I love the paperclip motif in this Tom Dixon design. But at $330/segment, I'd almost hate to put anything on it!
Any other favorites out there?