As planned, the big task on last weekend's to-do list was to paint the nursery. Before writing this post I had secretly decided on the color "abyss" (Kyle didn't have a strong preference either way), but I soon found myself rethinking every option and ultimately chose "baby black seal" instead (which seemed to be a crowd favorite).
Yeah, we love it.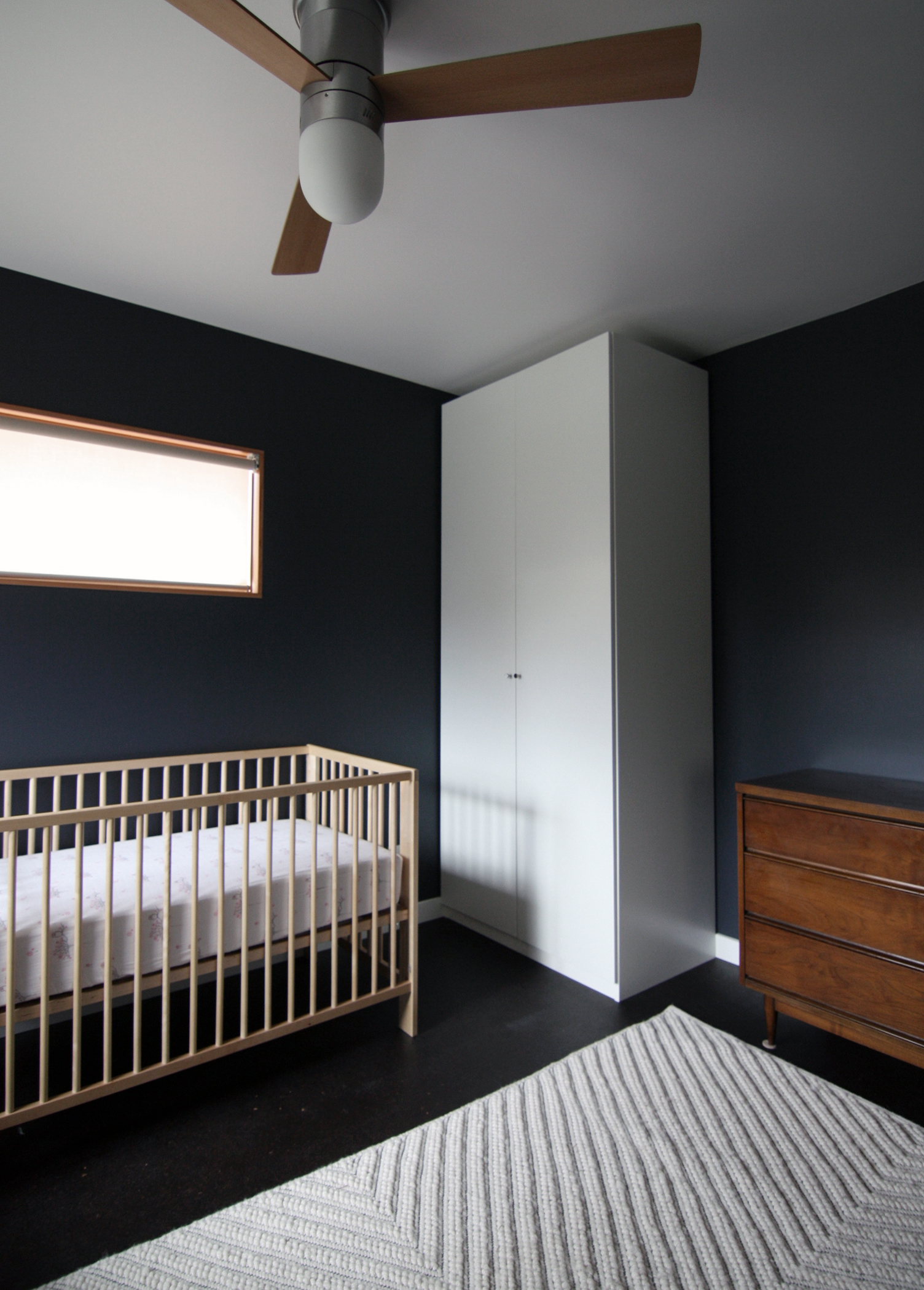 I've tried to show it accurately in these photos, but to be honest, the color varies considerably depending on the light and can read anywhere from a dusty gray-blue to a deeply saturated black-blue. (I took these photos today, in overcast evening light.) I opted to leave the ceiling and base trim white, which I think provides a nice contrast to the dark walls and floors and fir trim (and really, I hate painting ceilings).
I didn't really take any photos of the painting process, mainly because there's nothing too terribly interesting about it. In general though, I did two coats using Benjamin Moore's zero-VOC Natura paint in an eggshell finish. (We used Natura for all the walls/ceiling/trim in the living areas and loved it!) For this room, I decided to give cutting-in by hand another try, but soon realized that was a bad idea. (Seriously, is this a special talent? Is this why I can't paint my own toenails either?) So out came the green Frog tape, which added a little bit more time, but certainly saved my sanity. I used an angle brush to cut in at the ceilings, corners and trim and then used a 9″ roller brush everywhere else. (For the second coat, I used a smaller "cigar" roller instead of the brush for a smoother finish.) Kyle and I are probably the only DIYers that really dislike painting, but we try to ease the pain by sticking with high-quality products and tools. It may cost a bit more, but after one bad experience with cheap paint and rollers it's become a worthwhile expense.
The wardrobe is also in its final place, but the plan is to remove the doors and do a ceiling-mounted curtain track instead so it feels less like a free-standing piece of furniture.
Oh hey, we also picked up a dresser (+ changing table) off Craigslist. (Huge thanks to Amy for sending me the link!) We're not sure if we're 100% in love (I was hoping to find something slightly longer and a little blonder), but we're going to let it have a trial run in the space while we scope out other options. (If we keep it, we don't know if we'll paint it or stick with the existing finish. The main parts are solid wood, but top is the classic wood grain p-lam so we've also talked about doing a new white p-lam on top, similar to what we did on the stair cabinet.)
I'm not showing you the other side of the room because it's currently a hot mess with the TV, couch and all the stuff that was in the wardrobe piled on top. =)
We obviously still have a ways to go, but it feels good to at least have the painting part done.
In other baby news, I've officially entered the third trimester…less than 3 months to go!