As the third post in our series celebrating Studio Zerbey's first full year in business, we decided to talk more about the actual work. (See the first post here and second post here.) On our website and blog, we've featured a handful of the projects we've been working on, but the truth is we have so many more that we haven't shown yet. Just like it's hard to determine when a space is done "enough" to show the reveal, we find ourselves doing the same thing with Studio Zerbey projects – waiting for finished photos or taking the time to put together sexy graphics. So, consider this post a sampling of what we've been up to this past year, including some of the lesser known services we provide.
+ Consultations – although it's not a very bloggable topic, we've been doing consultations from the very beginning. Simply put, consultations are on-site visits where we give off-the-cuff advice and suggestions (following up with a written summary). We charge a flat fee that varies depending on the scope of the job and due to travel constraints, they are mostly in the Seattle area. Sometimes it's someone looking to buy a particular house and wondering about its remodel potential. Other times it's a homeowner that's interested in remodeling all or part of their home (whether they'll be hiring a contractor or taking it on as a DIY). For many of the consultations, it also serves as an informal meet and greet where we can learn more about the owners and their home and they learn more about us and the way we work. Although this is a service that some architects offer for free in hopes of getting the job, we learned early on that in most cases that just wasn't a feasible strategy for a two-person firm (it also helps filter out those who aren't very serious in the first place). As a solution, we decided to credit the cost of the consultation for clients that end up hiring Studio Zerbey for their project.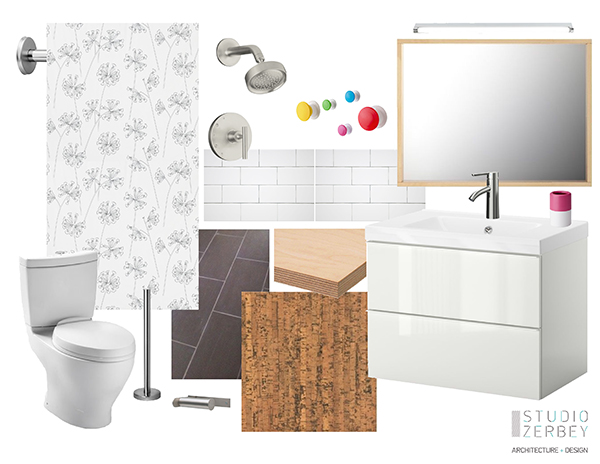 + Schematic Design – Over the last year we've taken on a number of small schematic-only projects, including everything from a condo remodel in DC and an Eichler house in Palo Alto to remodels in Seattle, San Francisco, Boulder and Vancouver, B.C. Essentially, "schematic-only" is a pared down design process where we put together sketches (or idea palettes, such as the one above) in lieu of a construction set that's ready to be handed off to a contractor. Although it places more responsibility on the owner, it's been an effective strategy for small remodel projects that are remote or where the budget or scope doesn't warrant a site visit or technical drawings. We haven't featured as many of these projects because either they aren't finished yet (often times the homeowner is DIYing it) or the end product is a floor plan sketch and not a pretty 3D rendering. (We have plans to remedy this though, soon!) Nonetheless, these projects are just as important to us, especially since most of the clients are blog readers as well. And so we thought it was important to highlight this particular service, recognizing that not every design project ends with a thick drawing set (a common misconception about architects, perhaps).
Above, options for different kitchen layouts in a small row house (click to enlarge). And below, a schematic floor plan for a super tiny 1937 fishing cottage in Seattle.
+ Remodels and New Construction – This is the bulk of our work and includes projects that are taken from pre-design through permit and/or construction documents. It includes remodels to early 20th century homes (which make up a large part of Seattle's housing stock), new single-family residences and a few commercial jobs. Although much of our work is in Washington state, we also have active projects in California, Montana and Alaska.
Above, schematic plan for a rooftop deck addition to a single-family house in Seattle.
Above, a new custom residence in the Hilltop neighborhood near Bellevue, WA. Below, a new custom residence in Pacific Grove, CA.
Above, a remodel of an existing Animal Hospital east of Seattle. Below, an extensive remodel of an old brick building into a commercial building in Missoula, Montana.
Above, a new custom residence (blogged about recently) east of Seattle. Below, a prefab residence on the Olympic Peninsula.
And there it is, a snapshot of what's in the hopper at Studio Zerbey. 2013 has been a good year and 2014 is shaping up to be even better with a handful of new projects already, including at least four different remodels in Seattle and a new house in Alaska!
Originally, my post for this week was going to be about our bedroom progress, but we've been so swamped that there has been no progress (and we realize that's not a bad problem to have). So we're just going to pretend like those four paint swatches are artwork and live with it just a little bit longer (although we have decided on a color!). In the midst of this holiday season, we are feeling quite thankful. This little blog that started out as a glorified Flickr account for our family has transformed into a means for growing our firm and working with some pretty awesome people on a variety of interesting projects. And for that, we want to say a big thank YOU!
2014, bring it!