A few weeks ago, we took a short trip to the Olympic Pensinsula of western Washington. We're working on a new project there, a modest prefab cabin, and it was our first time to see the site in person. Avery was with us of course and we also brought Bailey because really, what dog doesn't enjoy a good romp in the forest?
The area is notorious for their annual precipitation and just as we unloaded everyone and everything, it started to rain. Fortunately, our clients had a small RV on site so we moved our meeting indoors. At one point, I looked around to marvel at the sight – Bailey laying on the floor (wet and happy), Avery climbing up and down (and up and down) the carpeted steps to the "bedroom" area and Kyle and the homeowners huddled around the small banquette, zooming around the SketchUp model on our laptop and discussing views and materials. Outside, it was now pouring but all I could see was a thick blanket of evergreen trees. There are probably not a lot of professions where this might be a common (and totally normal!) occurrence, but for us it is and we love it.
So, a bit more about the cabin! Now that the design is fairly developed, we thought we'd share the renderings that Kyle created. (We use Sketchup Pro with a vray plugin, plus a little Photoshop and panoramic photographs.)
The cabin is small, 806 square feet, which includes a kitchen/dining/living area, a bathroom and a bedroom (scroll down for a floor plan).
The cabin will also be prefab (a process that Kyle has developed extensive knowledge of over the last several years). For this project, we've been working with Method Homes to create a design that will be a single prefab module, to be constructed in their warehouse near Bellingham, WA. The concrete foundation, decks and roof overhangs will be site-built. (The elevated foundation is designed to accommodate possible flooding and a concrete interior vault will house utilities.)
The exterior palette is based on affordability and durability and consists of stained tight-knot cedar siding, wood panels with a phenolic resin coating (that our client already owns), a metal roof, metal-clad windows and a durable ipe deck.
Deep overhangs help keep the interior cool and protect the siding in an extremely wet climate. An exterior bench and hooks provides a space to remove wet or muddy outerwear before entering the cabin. A rain chain near the entry collects roof runoff and directs it to a dry well.
A datum was set at 8′ above the main floor level, establishing a means of organizing the elevations and taking advantage of common door, window and panel sizes. A pair of conventional sliding glass doors provides the desired connection to the outdoors while keeping costs in mind.
The floor plan is simple but efficient, with the spaces organized linearly to take advantage of the lake and mountain view beyond.
The same wood panels will be used as a ceiling material, extending out to the underside of the roof overhangs for a seamless indoor-outdoor expression.
Double-duty is key for such a small space – the dining area is merged with the kitchen and a sofa bed in the living area can double as a place for guests.
The full-height cabinets to the left of the fridge will serve as a pantry and general storage needs.
A Rais wood stove provides heat in the winter, supplementing an energy-efficient ductless mini-split heat pump system.
A simple color and material palette was kept throughout the open cabin, creating a minimal canvas for the owners to add their own art and furnishings.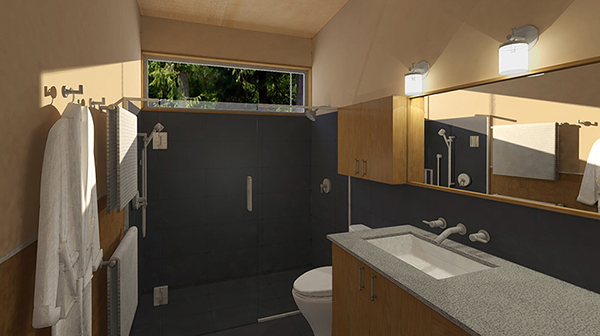 The bedroom is modest and will contain a free-standing wardrobe that also houses a stacked washer and dryer. A wainscot of wood resin panels throughout the interior provides a more durable surface and emphasizes the horizontality of the design.
The cabin was sited to take advantage of views and provide access for the equipment delivering the module without removing any trees. (Even in photos, it's hard to convey how incredible these trees are.)
The decision to go prefab with this project was based mostly on its remote location and anticipated construction schedule. There are plenty of other benefits to going this route, including:
+ Reduced Waste and Material Use
Because Method is building in the same locale and shipping to final destinations, unused materials from one project can be saved and used for other building applications rather than being discarded. This helps Method to achieve up to 90 percent landfill diversion on projects.
+ Controlled Environment
Structures are not exposed to the elements, which prevents nail pops, warping, and mold issues. Also, weather delays – master craftsmen can work in a controlled environment year-round (great for the Pacific Northwest)
+ Fixed Cost
Pricing and specifications for the modular portion of construction are determined upfront, removing unknowns from overall building costs.
+ Reduced Timeline
Preparing on site while simultaneously building in the factory helps to significantly reduce construction timelines by two-thirds or more.
+ Streamlined Skilled Labor
Master craftsmen are paid a living wage at the factory. Labor is performed on multiple projects in a centralized factory location.
+ Limited Site Impact
Reducing the amount of time and activity on the site lightens the environmental impact of the construction process. This also reduces the amount of disturbance experienced by the neighborhood (trucks and cranes coming and going, construction noise, etc.)
We're excited to see this project take shape and move into construction!