We finished the media bench and it's not even April yet! Actually, we were 90% done a week and a half ago, but we kept on tweaking. You know how it goes.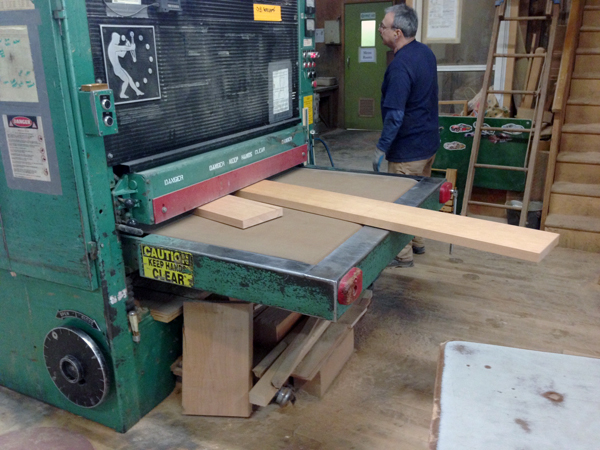 The bench itself is made of two fir 2×10's. Kyle took them down to OB Williams one afternoon where they ran them through the jointer and sander so they could be fit together without any wonkiness. (Our process photos are sparse, but it was a similar (although much simpler) to the office desk.)
Once the boards were back home in the shop, Kyle biscuited them together and applied a few coats of SatinThane. (He also added a radius to the outboard edge to make it a bit more baby-friendly.)
Once the bench was ready, it was go time. We put Avery to bed then emptied out the space (and did a celebratory high-five that we were finally, finally getting rid of the last of our college furniture).
(Sorry for these crappy iPhone photos.)
The media unit is an IKEA Besta box.
In lieu of legs, Kyle used the cutoffs from the 2×10's to create a solid wood plinth. (We actually ended up moving the plinth closer to the face of the cabinet and adding blocking behind for extra stability.) The bench sits on the Besta unit on one end and on two IKEA Godmorgon legs on the other (the legs have metal cuffs that hide the plastic adjuster). The span is only 4′-6″, so the 1 1/2″ thickness of the wood is adequate. Our original design was to do a wall-mounted unit but we realized that it would be better to be able to pull the unit out in order to access cords, etc.
We went with glass doors for the Besta unit, but did our own window film to downplay the components (yet still allow our remotes to work). We used this film, which is the same thing we used at our back door.
Bam! (I now realize I should have taken some "action" shots but Avery was napping and Kyle and Bailey were at the hardware store when I took these. Next time.)
Although Avery wasn't crawling when we wrote the last post, your comments about keeping the records out of reach convinced us to go ahead and make it happen and to use the space for toy storage instead. (Good thing too, as she is now all over the place.)
The subwoofer sits under the bench and we put the protective cover back on (even though it doesn't look as cool). We still need to add a cushion and although I'm sure we could have easily had a custom one made, in a moment of lets-just-get-it-done we ordered this one from West Elm. It's meant for outdoors but the color and size was right so we'll see.
Ahh…new bench, new storage, new TV.
Yeah, we'll get to that.
We also decided to go ahead and move the turntable to the cabinet as well. We bought this pull-out frame (with shelf insert) which works perfectly. (We intentionally left the handles off the doors and have catches that we'll install once Avery figures that one out.)
The next dilemma was that we couldn't fit all of the media components on one side to allow record storage on the other. Our stupid cable box was gigantic and taking up too much room so Kyle spent one morning haggling his way to a newer (and significantly smaller) version. "It's for our child's safety", was the tagline of the day. Our xbox is on the other side still and we use it primarily as a DVD player. We'll probably eventually swap it out for a small blu-ray player. (The small black box on the left is our all-in-one receiver that we use to watch TV, stream music and listen to the radio.) We also left the masonite backing off of the Besta unit for cord management purposes and to allow better ventilation.
We also removed the clunky plastic cover on the turntable. Good riddance, I say! We have noticed that it's easy for the turntable pull-out tray to catch on the door if it's not opened all the way so we'll probably add a tiny bumper to protect the window film from getting scratched.
I looked high and low for modern/fun/affordable toy storage options and finally landed on these felt bins from Land of Nod. These are 11″ cubes – they had 18″ versions that I preferred but they were slightly too tall. Now that the smaller ones are in place, I think they work fine. (We have to preserve a bit of space between the toy storage and subwoofer for an existing heat vent.) The bins come in other colors but we liked the yellow the best (I originally got aqua but it was much greener in real life than on the website).
So, the TV. Somewhere in the process Kyle bought a new TV. (My mom was in town visiting and I must have been distracted.) Ok, really I just like to give Kyle a hard time about it for being such a guy. 😉 We bought our old TV 4 years ago off Craigslist so the acquisition wasn't terribly unreasonable. For those of you that have been following us for a while, you may recall that the original plan was to make the downstairs bedroom a media room and avoid a TV upstairs altogether. Maybe we'll do that eventually, but we noticed that we've used the space a lot more since moving a TV in there (it used to be in the nursery when that was a flex room). We're trying to keep the TV off around Avery, but most of our viewing time is after she goes to bed so it usually works out.
As part of our baby-proofing efforts, I had bought some anti-tip TV straps before we purchased the new TV. But they're not all that attractive and the backside of the TV is actually somewhat visible so Kyle ordered this crazy wall mount that not only secured the TV but it has an adjustable arm so the TV can be rotated to an optimal viewing angle. Also, the base that came with the TV was an ugly chrome thing, so…win!
I also had concerns about Avery eventually being able to tip the speakers over so we installed these straps to the speakers and wall.
Done! Besides the cushion (which should arrive this week) we also would like to add some type of art piece above the TV. We're thinking something organic or free-form so it's not a rectangle sitting above another rectangle, you know? No idea what this piece of art would be, but we'll keep an eye out.
All in all, we love it. It's amazing how it changes the feel of the space and Avery has already logged some quality (supervised and supported) window seat time. This area of the house has always felt the least finished so it's nice to finally remedy that.