Despite our secret hopes, the basement fairy did not wave her magic wand while we were basking in the glow of our new front yard.
Blah.
I know it will be great to have it done (or at least partially done), but there is not a lot of motivation for this project right now (besides zerbebe's impending birth). So before we dive into a rather lackluster progress report, here's an updated floor plan that shows the new and improved design [click to enlarge]:
Our main goal for the half basement (which is only about 385 SF) was to have a space that could serve as a guest/tv room and maybe a future kid's bedroom. This room will be directly under the nursery and about the same size. We debated whether or not the space should be open to the adjacent stair area (and thus feel more connected to the rest of the house), but decided that we needed more flexibility since the room would serve multiple purposes. Our compromise is to install a 36″ sliding pocket door so that it could be open for casual use but easily closed off.  
The rest of the space will be divided between a second bathroom, laundry room and a small unfinished space that will provide some storage and access to our crawl space. While the second bathroom is not a current necessity, we decided that as our family grows it will be nice to have and add considerable value to our home (most homes in our neighborhood seem to be 2 br/1bath). As Bailey gets older (something I don't even want to think about!) it will also be nice to have a tub that he (and small kiddos) can more easily get in and out of.
The laundry room is fairly straight-forward and as we showed you in this post, the new appliances, cabinet, sink and countertop are already in place. On the opposite wall, we saved space for a small chest freezer. We have a rather compact 24″ fridge/freezer combo in our kitchen and while it works for us now, we know we might outgrow it in the future. Since we don't use the freezer portion on a regular basis (it's mostly nuts, ice cream and frozen waffles), the thought is to keep a chest freezer in the basement and buy a full-height fridge for the kitchen. While we don't have any plans to buy a new fridge right away, we did go ahead and buy the freezer. Out of necessity you see…
Kyle just got back from a long weekend of deep-sea fishing off the coast of British Columbia (courtesy of a generous client) and this was his bounty:
King salmon, halibut and some lingcod. (They had it cleaned, filleted, packaged and flash frozen before the long drive back.) Even though we've been in Seattle for eight years now, we still haven't gotten used to the luxury that is fresh fish so a sight like this has us a little giddy. The animals are equally excited and after a dinner of broiled salmon tonight, Bailey showed his gratitude by pre-rinsing plates as I loaded them into the dishwasher. [Psst…we're always experimenting with different ways to prepare fish, so if you have any favorite recipes I'm all ears.] In addition to fish storage, the new freezer should also come in handy for all those nesting-induced meals I plan to make next month. Yup.
Oh right, the basement. You again.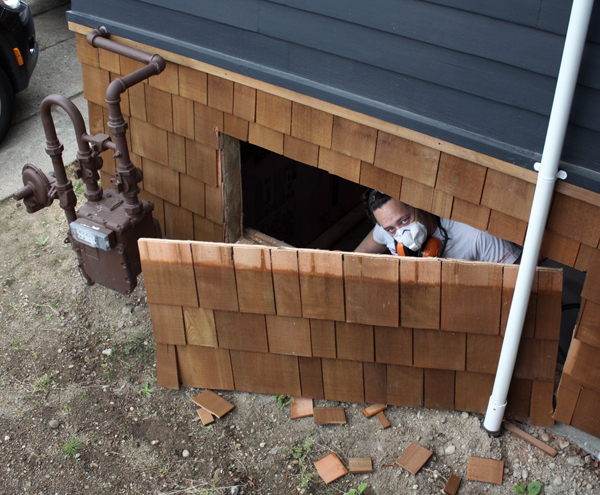 A few years ago Kyle and I got a great deal on some windows that were leftover from a local school project. Most of them were long and skinny, but we made them work in our mudroom and in the "slot" window in the dining area. Since then, we've had one remaining window hanging out in the basement with no home. Until now.
At first I was hesitant about adding a window to the front of the house, but after realizing that our new plants would soon screen it from the street, I was on board.
Kyle's like a window-installing wizard now. The whole operation took a couple hours max and I didn't even have to lift a finger.
Even though the walls and ceiling are still dark, the extra window does wonders for the space and makes it feel much less basement-y. I can't wait to see what a good dousing of white paint will do.
The downspout had to be relocated, but no big deal. (It used to come straight down from the porch eave above, but now jogs in and down before reconnecting to the existing inlet).
Like this:
In addition to the window install (which you'll notice was done before the landscaping crew arrived), framing is underway in the bedroom. Kyle's been gone the last two weekends so the space hasn't seen a lot of love (hence this less than epic progress update), but I did manage to snap a few photos the other day:
Our concrete foundation wall (which extends up to the underside of the window in the photo above) needed to be furred out so we could insulate and have a space to run electrical. Although we could have extended this framing all the way to the ceiling, we decided to stop it at the top of the foundation wall (where it switches to original framed wall). This will make the space feel just a smidge bigger and provides a storage or display ledge around the two outside walls. The ledge is primed MDF that we'll caulk and paint white.
Garden view!
Here's a shot looking back towards the crawl. We decided it would be weird to have crawl space access from this room so the plan is to frame it in and close it off (after we get the new bathtub out of course).
Because our house is 102 years-old and not perfect, Kyle had to do some shimming in order for the future drywall to be straight and plumb. Sometimes I am in awe of the patience he has to work through things like this.
So that's where we're at. We're keeping the next two weekends open to work on the house and hopefully make lots of progress before our schedules get too crazy. But it's cool – I've already talked to zerbebe and asked her not to come till we're done. I didn't get a clear response but I think I felt a nod. Or maybe it was a butt. At any rate, at least it's the solstice and we're working with maximum daylight on our side. In fact, Kyle's outside cutting lumber right now and I bet he has no idea it's 9:30.