It's been a while since we had a good old-fashioned project reveal, don't you think? Our front yard has been in a sad state for several years now, so we made it a top priority for 2012. In April we took the first step and hired a landscape architect. Then when made a few tweaks to the design and got bids from three installers. After selecting JP Landscape Services (based out of Duvall, WA) we eagerly waited for the magic to happen. They originally thought the job would take 4-5 days to complete, but with a last-minute delayed start on another project they were able to double-up up their crew at chezerbey. Best of all, what would have taken us at least two months of nights and weekends (not counting all the frustrated sighs and dirt-kicking) took the professionals 3 days. THREE DAYS. But before we show you the money shots (and there's a lot), let's get a glimpse of how it all went down:
Day One:
Work started last Wednesday morning, but while waiting for the crew to arrive Kyle was able to snap these "before" shots for a little context.
Weedapalooza? Check.
Sidewalk to nowhere? Why not?
Day Two:
On the first day the crew scraped the site clean, regraded, took away extra dirt (can you believe we still had extra after all the foundation work from last summer?) and set the salvaged pavers. Here's what it looked like on a rainy Thursday morning before I left for work:
Truthfully, even this prep work was very exciting. It was also reassuring to see that the installers seemed to know what they were doing and weren't cutting any corners.
We mostly let the crew come up with the paver pattern for the south side and think they did a great job! They had to compensate for a slight slope from one end to the other, but walking across the final placement it was impossible to tell.
While we were at work, the crew spent the rest of Thursday bringing in new compost and amending it into the existing soil (for a total depth of 4″-6″). By the end of the day they had also sourced most of the plants and delivered them to the house. There were a few varieties that weren't available at the time so we did some last-minute scrambling to find replacements.
I didn't have a chance to take photos on Friday morning, but the changes were less drastic than the previous day. Or maybe I was just thinking ahead to the surprise that would await us that evening.
Day Three:
Friday was spent installing all of the plants and the final 2″ of mulch. After work that day, I met Kyle at the hospital for a pre-birth tour that I scheduled weeks ago. While it was certainly worthwhile, we both made a beeline for the exit as soon as it was over. The yard awaited!
Oh. Well, hello there.
[We didn't have enough salvaged concrete for the front strip, so we picked up these 2'x2′ pavers for about $15/each.]
For those with a good eye, that is indeed a new (though yet-to-be trimmed out) window. Although it makes a world of difference in the basement, it does look a little goofy from the outside. But good news – it no longer matters because we now have a screen of nature in front! Oh, and gas meter – no one will even remember where you are this time next year. Grow plants, grow!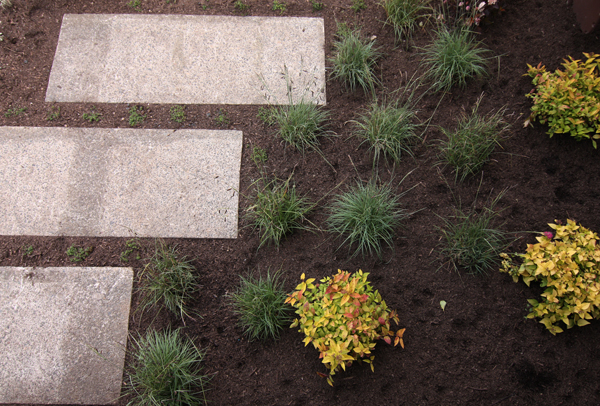 Have I mentioned that we decided to make Felix a part-time outdoor cat? No longer limited to running the diagonal length of the house, he seems happier, has more of an appetite and is not nearly as snarky as he used to be. A win-win for all.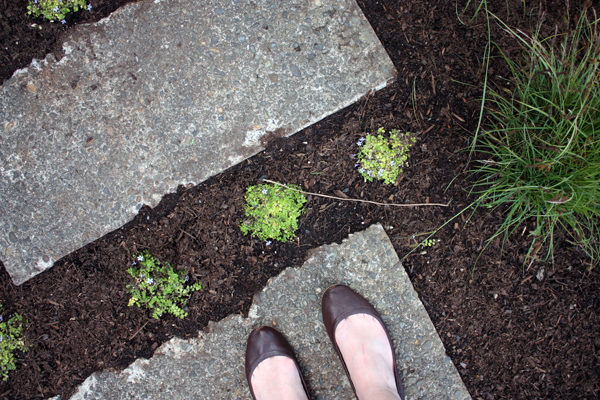 Overall, we are THRILLED with the results. There are still a few missing plants (some groundcovers and herbs) that need to be added and of course everything will fill in as it matures, but the current density is plenty to be excited about. We were also pleasantly surprised with just how well the salvaged pavers turned out. [Score one for the planet and our checking account!] Although there are still a few loose ends to tie up, the guys did a great job with both the install and clean-up and we would definitely recommend them to anyone in the area.
While you're at it, you should hire our landscape architect too (Mark Garff at The Watershed Company) – he was involved throughout the installation process and helped us make last-minute decisions when certain varieties were out of stock. Kyle and I debated how modern to go with the landscaping, but in the end we feel like Mark struck a good balance that shares our design approach with the outside of the house. Although we took more freedoms on the interior of the house (and will probably do the same for the backyard), we decided to be more subtle in the front. This was driven mostly by budget (no sense in changing the basic 1910 form of the house just for the hell of it), but it was also a personal design challenge. Now that the front is really, truly done (hallelujah!) we're confident that it is entirely possible to make a 102 year-old home feel modern, efficient and clean while fitting in with the existing neighborhood and being responsive to our climate. Not to be all self-congratulatory, but for us, this is what good design is all about.
But back to the yard. This evening was warm and sunny so Kyle and I sat out on the stoop with pints of ice cream taking it all in and marveling at what could be accomplished in just three short days:
I confess that I still don't know the names of all the plants (Latin or English), but I'm determined to learn. After all, we'll be spending a lot of time together this summer.